The Secret World – Golden Weekend and Gilded Rage Event!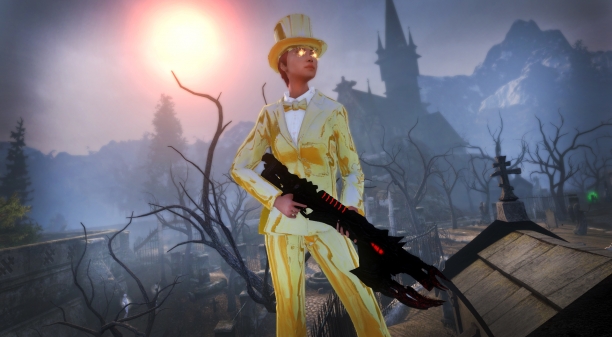 Today we are kicking off another Golden Weekend in The Secret World and also starting a two week long event called the Gilded Rage. Make sure you don't miss this great opportunity to get your hands some very valuable rewards and bonuses.
During this Golden Weekend event, from Friday the 6th at 4pm CET/10am EST until Sunday the 8th of September, you can enjoy the following bonuses:
Double Ability Points! – Every time you earn an Ability Point during the event you also get an additional one as a bonus. This stacks with the bonus from Timed Ability Point boosts from the Item Store.
Free Membership Months for Recruiting! – For every new player you recruit this weekend you get a free month of Membership in addition to the Veteran Points you normally get. (To get this bonus you must send your invite between now and the end of the Golden Weekend and the recruit must purchase The Secret World within 30 days.)
Great Deal on Funcom Points! – During the Golden Weekend you get 30% extra Bonus Points every time you purchase Funcom Points! Bonus Points are valid for 6 months towards any in-game purchase.
Gilded Rage Event
A Guardian of Gaia has returned, and the time has come to team up and join the fight against this massive foe.
This continuation of our Anniversary Event will unleash a Golden Golem upon the land. No area is safe from this mighty menace, so gather your Golem smashing army step into the fray once again!
The Gilded Rage Event will start at the same time as the Golden Weekend, but will last a full two weeks so everyone can get the chance to take part in the event.
Just as during The Secret World's first anniversary there will be great and unique prizes to be had from defeating the Golem. Look forward to pets, great gear and special outfit pieces.
Tagged With:
Gilded Rage
,
Gilded Rage Event
,
The Secret World
,
The Secret World Issue #8
,
The Secret World Issue #9
,
The Secret World Scenario
,
The Secret World Scenarios
,
The Secret World Tokyo
,
TSW Event
,
TSW Event Guide
,
TSW Gilded Rage
,
TSW Gilded Rage Event
,
TSW Issue #8
,
TSW Issue #9
,
TSW Producers Letter
,
TSW Scenario
,
TSW Scenarios
,
TSW Tokyo
,
World Event