The Secret World: The Last Pagan
SIDESTORIES: THE LAST PAGAN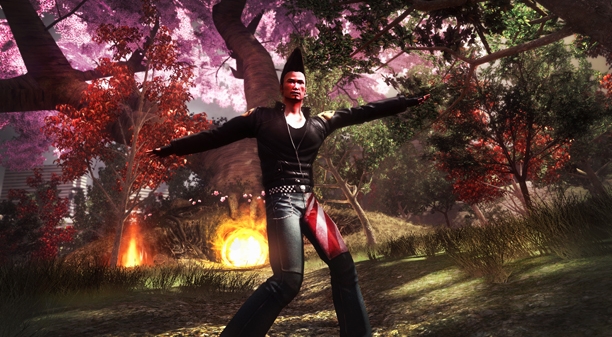 A brand new Mission Pack is live! Jump into Tokyo and play six all new missions. Take on both deep investigations, brutal action and tricky sabotage. Sidestories: The Last Pagan offers hours of new gameplay where you get to explore a massive Flappy nest and plan your very own bank heist!
Complete all the missions and get your hands on the awesome Lorenzian Fabricator, which lets you teleport directly into Tokyo from anywhere in the world and a Deep Mystery Box to boot!
The Bank Heist – Daimon Kiyota needs something. Something locked away in the vault of Faust Capital. An unlikely bank heist is the only possible solution.
The Pagans – Meet Ricky Pagan, the man beneath the pompadour. Ricky and his gang used to spread the word of rockabilly to the masses, but now they are scattered and lost in the streets of Tokyo. Only the power of rock can reunite the gang.
A Wake of Filth – Something stirs in the waters of Tokyo Harbor. Ricky Pagan doesn't know what it is, but he knows the only way to stop it is with the help of the holy trinity: Gaia, Amaterasu and Elvis.
Fierce Competition – Inbeda is tired of his contracts being contested – especially when the assassin always seems to be two steps ahead of him. Desperate times call for desperate measures, so he sends out the Spirit of Kan'ami to investigate what is really going on.
All Alone Together – When the Tokyo incident occurred, Harumi and Yuichi had been living most of their lives online. Since the incident, they have been living all of their lives online. And their online circle of friends has gone missing.
The All Seeing Kawaii – Harumi, hacker extraordinaire, has managed to tap into CCTV camera feeds all across Tokyo. But someone or something is removing her cameras, restricting her access to certain parts of the city.
The six new missions are not all that is new in Tokyo. After very helpful community feedback the AEGIS system has also gotten an update. Now you can train the two new Efficiency and Proficiency Skills to master AEGIS to a much greater extent than before!
Please note that you need to have Issue #9: The Black Signal to be able to purchase Sidestories: The Last Pagan and to do the new missions in Tokyo.