ISSUE #9: THE BLACK SIGNAL IS LIVE!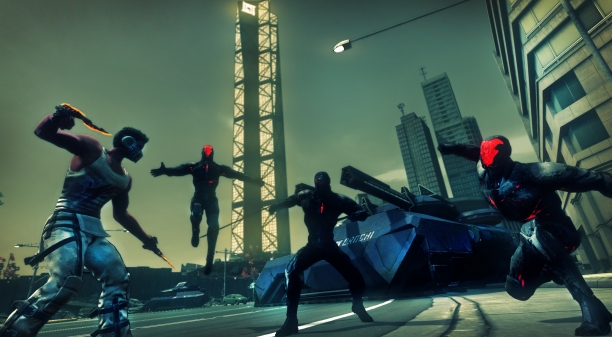 The time has come – Tokyo is here!
The Secret World has just gotten its biggest update yet. The all new Issue #9 launches the massive Tokyo playfield and continues the game's main story quest.
Continue the story from Venice before you head out to Tokyo to take on the brand new challenges which await you there. Travel through the devastated subway, the place where it all began, and enter the besieged city itself.
Issue #9 offers hours of content, deep stories, new characters, fresh monsters, exciting locations and challenging quests. In addition you can enjoy the all new AEGIS system, which lets you equip a fresh set of equipment and weapon controllers.
Click here to watch an all new preview trailer of Issue #9: The Black Signal.
Issue #9 is available in the Item Shop now for all Members, as they get three days early access. If you become a Member now you will also get early access to Tokyo and you will immediately get $10 worth of Bonus Points (enough to buy Issue #9).
You can also get The Black Signal Collector's Edition in the Item Shop right now. It contains the full Issue #9 plus the epic Orochi Damage Inhibitor Trinket, the new Mask of Zeami, the unique Sensei title and the exclusive Japanese School Uniform outfit!
Read more about Issue #9: The Black Signal below the Issue cover.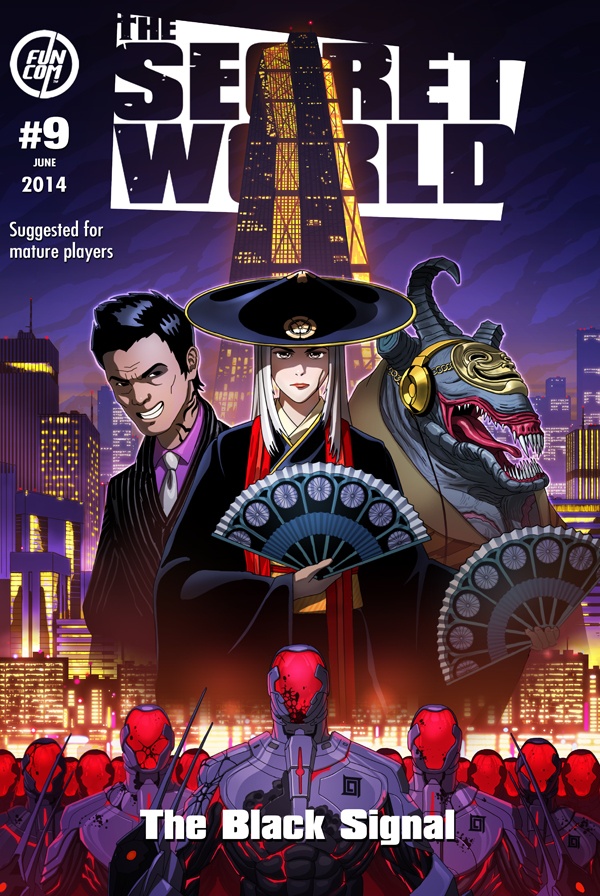 A Deep Story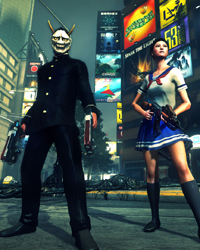 Issue #9 brings an all new chapter to The Secret World's main story. A terrible weapon was set off in Tokyo, and it set in motion the dark events which spread across the world.
Now you have the chance to dive deeply into this mystery and uncover clues which can lead to a greater understanding.
Tokyo was the place where it all began, and the place you must go to understand The Secret World. 
The City of Tokyo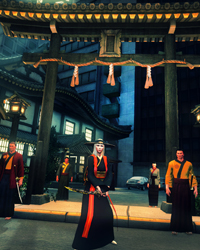 The massive city of Tokyo is the first full new Playfield The Secret World has gotten since launch. It is full of new monsters, characters, stories, locations and challenges.
The city is plagued by ghosts, an invasion of demonic Oni mercenaries, corrupted Orochi Drones and Filth infected citizens.
The parts of the city where the initial outbreak took place and under strict quarantine and only the toughest can survive under such harsh circumstances. Explore Tokyo today!
AEGIS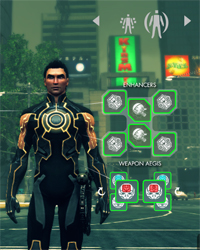 The Filth is evolving and mutating as the creatures of darkness meet resistance. The all new AEGIS system will let you overcome these dangerous new defenses that the monsters of Tokyo have acquired.
You can equip three different controllers on each of your weapons, to deal with different types of shields. In addition you can equip AEGIS enhancers which fit with your chosen builds. The more enemies you defeat in Tokyo, the more research you will be able to gather, and the stronger your AEGIS will become.
Official Post Here:  http://www.thesecretworld.com/news/issue_9_the_black_signal_is_live
Tagged With:
Contract Killers
,
TSW Aegis guide
,
TSW Chasing Bad Luck
,
TSW Immersion Guide
,
TSW Issue #9
,
TSW Issue 9 Guide
,
TSW Issue 9 Mission Guide
,
TSW Mission Contract Killers
,
TSW Prelude & Intrigues
,
TSW Samurai Robots Can Happen To Anyone
,
TSW Spy Games
,
TSW Texts
,
TSW The Abandoned Guide
,
TSW The Black Signal
,
TSW The Black Signal Guide
,
TSW The Ghost Lord
,
TSW The Right Way
,
TSW Tokyo Investigation
,
TSW Tokyo Mission
,
TSW Tokyo Mission Guide
,
TSW Trials of The Dragon Guide